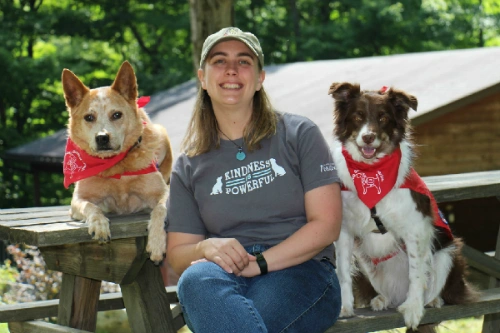 Ann Withun, BS, ACDBC, CPDT-KA
Owner, Good Dog Rising, LLC


My two goals:
1) You enjoy class as much as I do!
2) Attending class helps you and your dog to enjoy your lives together.
I have been training professionally since 2006, after many years of training my own dogs as well as 20+ rescue foster dogs. Since becoming a professional, I've helped hundreds of people train all different breeds and ages of dogs. I stopped counting many years ago after going over 1000 hours of experience working with clients and their dogs.
Initial and ongoing education is critical to being competent at dog training and behavior. I work to keep my training skills up to date by attending conferences, camps, and seminars every year and through professional reading. I maintain certification and membership in multiple professional organizations. In addition to the mentorship of fellow local trainers, I've had the privilege of attending seminars and workshops, and often working hands-on, with many talented trainers, veterinarians, and behavior consultants such as: Karen Pryor, Dr. Nick Dodman, Ken Ramirez, Dr. Susan Friedman, Victoria Stilwell, Steve White, Bob Bailey, Dr. Sophia Yin, Susan Garrett, and many others. Every year, I attend one of more of the major annual training and behavior professional conferences, as does the rest of the Good Dog Rising staff: APDT Annual Conferences, Clicker Expos, IAABC Annual Conference, Fenzi Dog Sports Academy Conferences, etc. I have also studied business ethics and practices in order to continuously improve our services and customer experience.
My dogs and I like to do a little bit of everything. I have trained to competition level in Rally-Obedience, Agility, Freestyle, Scentwork/Nosework, and IMPROV Obedience. We also enjoy on and off-leash hiking. With Dog Scouts, we've been able to try all kinds of activities like search and rescue, dock diving, kayaking, and carting. All of the Withun dogs are rescues in some form or another, and all are AKC Canine Good Citizens and/or certified therapy dogs.
I have two rescue cats of my own, and I have attended several professional courses in feline behavior, from 2012 to the present. With cats, I have trained impulse control, appropriate letterbox and scratching behavior, unrestrained nail trims, and targeting.
Certifications and Achievements:
Bachelor of Science (Mathematical Sciences), United States Military Academy, West Point, NY
Certified Professional Dog Trainer, Knowledge Assessed www.CCPDT.org (since 2011)
Associate Certified Dog Behavior Consultant www.IAABC.org (since 2012)
Professional Member, Association of Professional Dog Trainers www.apdt.org (since 2007)
Fear Free Certified Animal Trainer (since 2019) www.FearFreePets.com
Evaluator, AKC Canine Good Citizen test (since 2009)
Therapy dog working team, and later TDI Evaluator (2006-2017)
Licensed Presenter, Dogs & Storks program (for expecting families) www.familypaws.com (2012-2015)
Certified in Pet First Aid and CPR, American Red Cross
Certified Customer Relationship Professional (CRP) 2018
Professional and Volunteer Experience
2013-present:

Instructor, Behavior Consultant, and Owner of Good Dog Rising.
2006-2013: Dog training instructor and behavior consultant, Fieldwood Dog Training Center.
2006-2007: Pet training instructor, PetSmart Carlisle.
2007-present: Dog Scouts of America, National Board of Directors and local Troop Leader.
2011-2013: President, Board of Directors, International Association of Animal Behavior Consultants.
2007-present: Volunteer, Furry Friends Network dog and cat rescue. www.furryfriendsnetwork.com
2003-2005: Volunteer, Washington County, MD Humane Society.

Professional Publications
Authored the article "What is Behavior Consulting, Really?: a Guide for Trainers," published in the July/August 2012 issue of APDT Chronicle of the Dog. (You can read it here: Ann_s_article_COTD_July_2012.pdf
163.6 KB)
Blog contributor, International Association of Animal Behavior Consultants.
Behavior consulting column contributor to APDT Chronicle of the Dog.
Multiple training tips published in APDT's book, Top Tips from Top Trainers, published in 2010.