Looking for Dog Training in Carlisle, PA and surrounding areas? You've come to the right place.
The Good Dog Rising
Core Curriculum
This is what we do with our own dogs, and it's what we recommend for you:
Clicking HERE will give you quick links to great info, and we'll walk you through getting signed up.
Listing of Good Dog Rising's full range of services
DETAILED CLASS DESCRIPTIONS WITH PRICING: 
Descriptions and pricing below. All group dog training classes are held at our location in Carlisle, PA.
A variety of classes are offered, every weeknight, some weekdays, and on weekends. At any one time, we generally offer 20-30 classes, about 2/3 on weekdays/weeknights and 1/3 on weekends, with offerings in each of the categories above.
We start dogs by age group (under/over 16 weeks.) We promise that these classes will have challenging, unique, useful exercises for your dog, whether they have no experience or if they have a good grasp of some of the basics. We put a lot of effort into ensuring our Foundation classes are a worthwhile investment of your time and money - and positive feedback from hundreds of families says we're doing a pretty good job!
Questions? Look at our FAQ page for immediate answers at your fingertips.
Puppy Socialization & Manners
("Puppy Kindergarten")
Class Fee: $210 for seven weeks of class
Prerequisites:
Sign up
View the schedule of available classes, and register online HERE.
This class is a MUST to help your puppy grow up into a friendly, well-mannered adult dog. Ideally, start this class as soon as you get your pup to take full advantage of the critical socialization period between 2-4 months.
The primary emphasis of this class will be to provide safe, supervised interaction with other puppies and people, which is essential to your dog's future behavioral health. Your puppy will also begin the foundations of basic obedience and learn cues like sit, lie down, and recall (come when called). Most of all, your puppy will learn to focus on you, even around distractions! Your pup will learn that sometimes it's playtime, and other times it's time to focus on listening to you!
Each week will have a theme, covering real-life situations like going to the vet, visiting an outdoor cafe, or being in the kitchen. You'll practice practical obedience skills in the types of situations where you'll actually use them.
Question: When should I begin puppy class?
Answer: As soon as possible! We're not kidding. Do it! You'll be glad you did.
In the first months of life, your puppy is in a critical developmental period. The experiences your pup has during this time will last a lifetime. Take advantage of this impressionable time to build a confident dog that loves new people, dogs, and places - and to build a pup that loves learning and following your direction. Check out the information at this link for more detail.
Basic Manners & Obedience
Class Fee: $210 for seven weeks of class
Prerequisites:
Sign up
View the schedule of available classes, and register online HERE.
For adult dogs (older than 4 months) who have had no previous formal training, or a great next step after Puppy class for greater obedience focus and getting through that tough adolescent stage.
Your dog will learn to follow basic cues such as sit, down, stay, come, leave-it (manners around food), and loose leash walking - all among the distractions of other dogs and people. There are special focus weeks on weaning off of treats, dog-dog interactions and manners, and good manners around food, and we add in weekly challenges and tricks. We emphasize practical manners and your dog's ability to be a calm, well-mannered member of your household and a great companion when out and about. Your dog will learn that it's fun and rewarding to pay attention to you, even in the face of distractions.
This class will give you and your dog all of the foundation skills you need to get started right, and you'll learn how to better communicate with your dog and get them to do what you'd like them to do. This is a great class both for newly adopted dogs and for adult dogs you've shared your home with for years.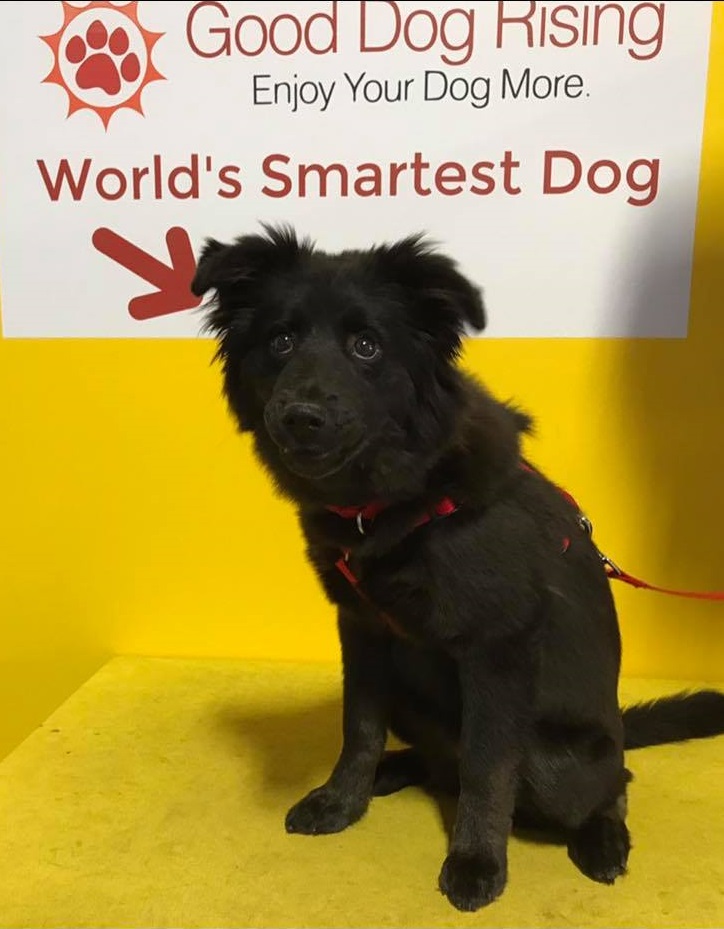 Question: If my dog already knows to sit and some other things, is Basic still a good fit?
Answer: Yes! If this is the first class you and your dog have attended together at Good Dog Rising, Basic is the perfect place to be!
Because we limit class size at each Basic Manners class, we can make sure each dog is working at just the right challenge level. Because many dogs come to class already knowing some things, we move quickly to integrate distractions and more challenging versions of each exercise for dogs who are ready. We cover lots of life skills that help your dog be a more enjoyable companion overall - beyond just teaching basic obedience cues. We promise you won't be bored!
Question: Can you really teach an old dog new tricks?
Answer: Yes!
Dogs, being the successful species that they are, are able to learn and change their behavior throughout their lives. Our training methods not only teach your dog the meaning of specific useful cues like sit and stay - they also help your dog learn that if they choose behaviors you like, life is good for everyone! No dog is "too old" to benefit from Basic Manners & Obedience class. You'll both be glad you made time for training, and you'll enjoy the time you spent together.
The next step after completing GDR Basic Manners class.
Class Fee: $210 for seven weeks of class
Prerequisites: GDR Basic Manners
You get: Seven week group class, one hour each week
Sign up: View schedule of available classes, and register online HERE.
Take things to the next level with this natural follow-up to GDR Basic Manners, where you'll increase mastery and manners and build a foundation for whatever life will hold for you and your dog's future together.
Come learn the skills the GDR instructor team teaches to our own dogs after Basic.
Advanced Manners class includes a sampling of fun things that will also help take your dog's obedience & manners to the next level.
This class provides an excellent foundation for anything you'd like to do with your dog - from just being a great companion in the house and on walks to the manners and self-control needed for therapy dog work to the focus and attention you'll need in agility, rally-obedience, freestyle, IMPROV obedience, or any other canine sport. Graduates of Advanced Manners are consistently happy; they went the extra mile with their dog's education.
Many students have found Advanced Manners to be key preparation for taking Canine Good Citizen or TDI Therapy Dog tests (and we can also help tailor training plans to prepare your individual dog.)
This class is tailored to meet the needs of the dogs in the class. Your dog will build focus, attention, and self-control. Your dog will gain mastery of the basics in the presence of serious distractions.
This is a repeatable class, and we can adjust the challenge level to each individual dog.
GRADUATE LEVEL CLASSES
and ONGOING K9 CONTINUING EDUCATION
For the awesome dogs who have completed GDR Basic and Advanced Manners Classes
Class Fee: $130 for seven weeks of class
Prerequisites: GDR Basic and Advanced Manners
You get: Seven week group class, one hour each week
Sign up: View the schedule of available classes, and register online HERE.
Email or talk to your instructor to discuss placement in an appropriate level class.
WAY more than shake and roll over! If you've seen YouTube videos of dogs doing amazing tricks, that's the kind of stuff we work on in our Trick Dog classes. YOUR dog can be that amazing dog (and it's easier than you'd imagine when we show you how.) Trick Dog classes are some of our most fun, full of people laughing and smiling and dogs wagging.
Tricks classes will be 7-week courses where you'll get to work on cool tricks of all kinds, from basic ones to really advanced ones. You can view videos of the awesome tricks we work on in class on our FaceBook page or email us to come to observe the class in person. 
In class, you can work toward "Do More WIth Your Dog" Trick Dog Titles at the beginner through champion levels with our Certified Trick Dog Instructor, Carleen.
Rally-Obedience is a K9 sport that combines obedience and fun. Build a great working relationship. Increase focus and attention. Your dog will learn more formal heeling and precise obedience moves while you have fun together learning a new sport. Exercises move to being off-leash as your dog progresses to higher levels. In lieu of Intro to Rally Obedience class, many dogs are able to move into ongoing Rally-O classes after completion of Advanced Manners Class.
In Rally-Obedience, dogs complete a course comprised of a sequence of numbered stations (like in agility), completing various obedience exercises as described at each station.
Not sure what to do next? Continue to refine your dog's obedience mastery while having an awesome time trying different canine sports and activities. 
During the 7 weeks of Intro to K9 Sports class, you will get to try multiple canine sports: agility, scent work, tricks, rally-obedience, etc. Instructors will help you unlock your dog's unique skills, and you can find out what you really enjoy by trying it hands-on in a fun, easygoing class environment.
This is a repeatable class for those who enjoy the variety of doing a little bit of everything rather than committing to a single dog sport. While it is not a prerequisite for other sports classes, it does provide a great foundation for moving on into those and is an excellent choice for transitioning from the core obedience curriculum into sports training. 
Find out what you and your dog really enjoy, and reveal their hidden talents!
The Good Dog Rising agility program is fun-oriented (versus competition oriented.) Our goals are for the dog and handler to have fun, to teach confidence and off-leash control, and to contribute to the fitness of both dog and handler. We will teach appropriate and safe techniques which would lay a foundation for future competition if the handler wishes to do so, and can refer you to another local agility program at any point if you wish for more competition focus.
AFF Level 1 - Our Intro course (prerequisite: Basic and Advanced Manners, which lets us start off-leash sequences on day 1 of intro to agility class!) In this class, dogs will be introduced to a fun selection of agility obstacles that are the quickest for dogs to learn, and that will help students to progress quickly to working on off-leash control on short sequences of obstacles. We will emphasize the following obstacles in level 1: jumps, tunnels, table, tire. Handlers will learn to direct the dog on short sequences and learn basic handling skills. This is a beneficial, confidence-building, and fun class for any dog, even if there is no interest in ongoing agility training. Dogs should remain in the Level 1 class until they are comfortable performing short sequences of obstacles off-leash (usually accomplished in one 7-week class). 
AFF Level 2 - Before proceeding to Level 2, dogs will be ready to do short sequences off-leash. At this level, dogs will move on to other obstacles and longer, gradually more difficult courses. Previous knowledge of handling skills (such as front and rear crosses) is not required and will be covered at this level. Students will continue to work on directing their dogs on longer sequences without leashes or food lures, moving more quickly, and gaining confidence and off-leash obedience skills. Teams will remain in level 2 groups for multiple classes and continue to add more and more dog and handler skills.
AFF Level 3 - Level 3 is our most seasoned group. At this level, we will cover the whole range of agility obstacles. Dogs should be able to perform longer sequences of obstacles with focus and good off-leash control; with little to no assistance from the handler, dog is able to handle any type of obstacle independently; the dog and handler can negotiate pretty much any kind of course. Work on weaves, teeter, A-frame, and dog walk, as well as longer sequences and more complex handling techniques.
Dogs have a great ability to learn about their environment through their sense of smell. Dogs have been used for their scenting capabilities, in various capacities, to help humans. Dogs have been used to detect bombs, gun powder, natural gas, fruit being imported illegally, drugs, cancers, bed bugs, and people, both lost and deceased. Unleash this amazing talent in your own dog!
Scent Work class is designed to help owners teach dogs how to associate a specific odor with a reward for the dog, indicating to the handler where it is! Your dog already knows how to smell, but they'll learn how to zero in on the source of an odor, how to search methodically, and how to indicate the location to you reliably.
The target odor is placed in different locations for your dog to find. You, as the owner, need to learn how to identify when your dog has found the desired odor. Scent Work allows our dog to guide us through this fun activity. Level 1 will start with Sweet Birch odor (the same odor used in the beginning level competition) and the basic skills of scent work, including interior and exterior searches and searches of vehicles. 
Scentwork Level 1 - Intro to Scentwork: Dogs and humans are introduced to the sport and learn to love searching! This activity is extremely good for confidence building in more reserved dogs and also a great outlet for dogs with lots of energy. We've had great scent students of all ages, sizes, and abilities - from rambunctious adolescents to seniors who develop the enthusiasm of pups in class, to even deaf and blind dogs - and everything in between. You'll have a wonderful time watching as your dog reveals its amazing scenting capabilities, and you'll learn to build a great working relationship.
Scentwork Level 2 - Working Scentwork: Dogs will learn to recognize additional odors: Clove and Anise (required for upper levels of competence in Nosework and Scent Detection), and their own handler's human scent. Searches will be more complex, including more difficult blind searches, hides at different heights, and multiple hides.
Scentwork Level 3 - Advanced Competition Scentwork: Dogs and handlers should progress to level 3 after the dog and handler have experience successfully finding Birch, Clove, and Anise, and searches in a variety of contexts. Level 3 will continue to challenge dogs and handlers with more complex searches and work toward excellence in competition. Most level 3 dogs are either actively competing with titles already achieved, or they have been doing scent work for a long time and just choose not to compete formally. 
Three 45-minute sessions on a focused topic.
Class Fee: $75 for three week classes or $90 for four weeks
Prerequisites: GDR Puppy and/or Basic Manners Class
You get: Three week group class, one hour each week
Sign up: View the schedule of available classes, and register online HERE.
Work on a specific goal without needing to commit to a full seven-week class.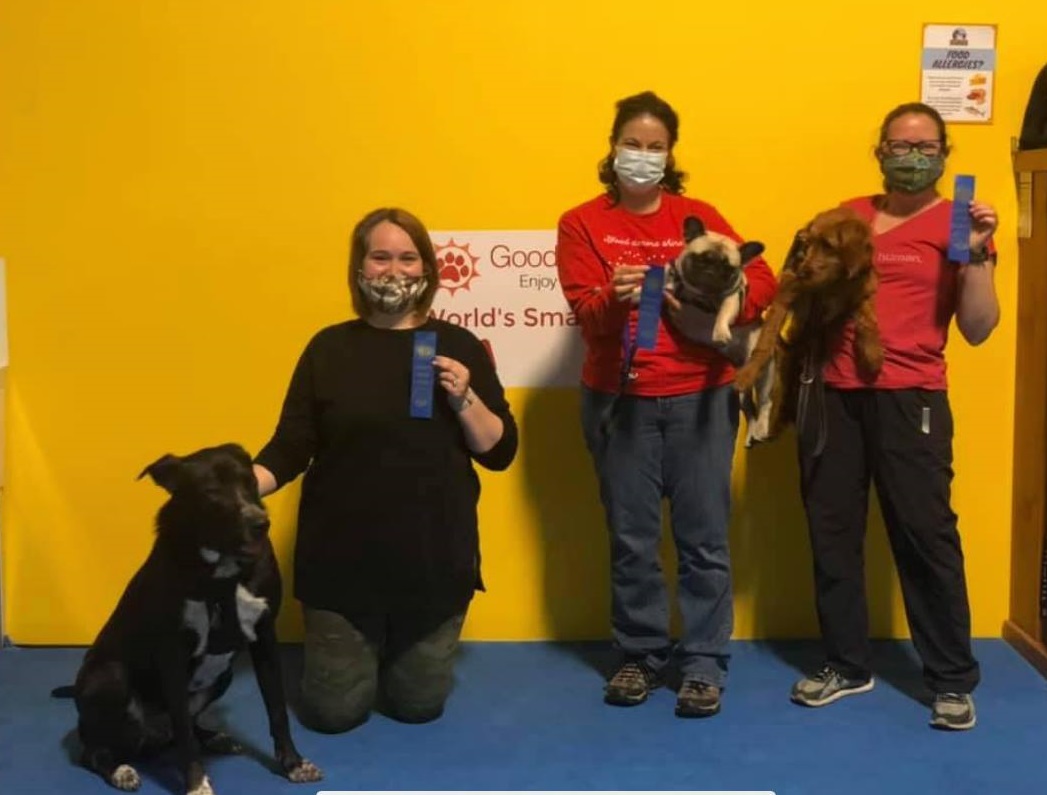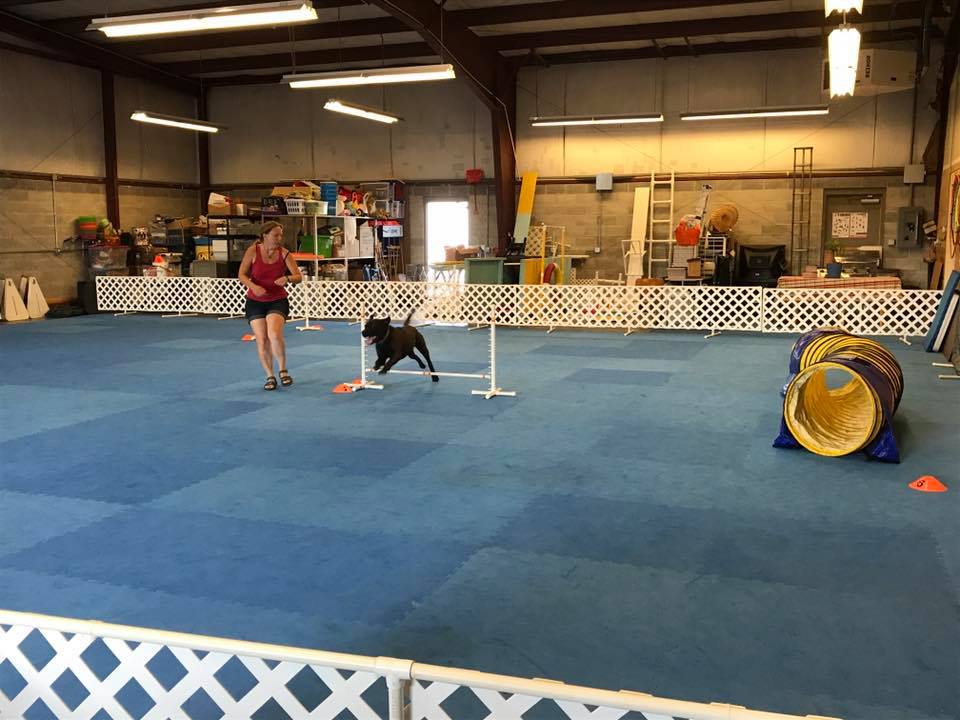 Super Stays - amazing stays in 3 weeks
Tricks 101 - learn and have fun, work toward Trick Dog titles
Recall Mini - our favorite and most effective training exercises for a great come-when-called
CGC Practice - practice on the specific exercises of the CGC test with coaching
Crate Games - build drive and enthusiastic self-control, as well as love for the crate- a dog sports must
IMPROV Games - fun and challenging IMPROV challenges each week
Clicker Shaping - 3 weeks to a "clicker savvy" dog, and a new tool for your trainer's toolbox
Tooth & Nail - learn how to help your dog tolerate tasks like nail trimming and tooth brushing willingly, with no fuss!
...and more!
Consider private training for:
Please see the About Us page for our qualifications, experience, and independent certifications in canine training and behavior. We have experience working on everything from common "obnoxious" behaviors to complex behavior modification cases with an excellent success rate, but we also do not hesitate to involve your veterinarian or work in conjunction with a board-certified veterinary behaviorist if it would help to achieve the resolution of your issues. You can expect only the most professional behavior modification services at Good Dog Rising.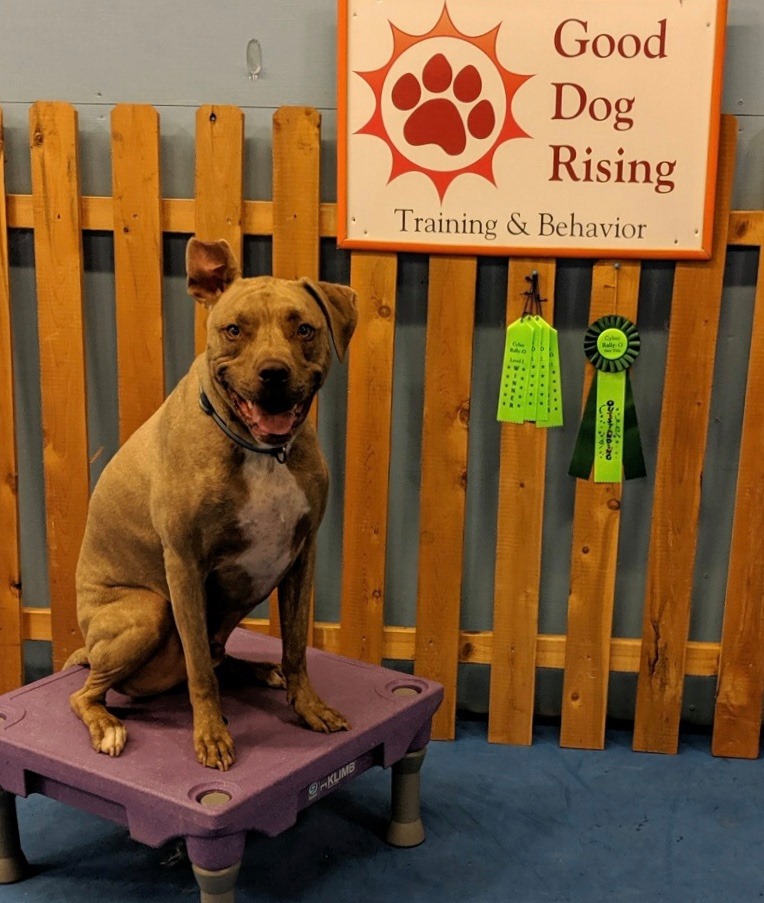 We are currently accepting private training clients for obedience, house manners and life skills issues, sports, CGC preparation, common behavior problems, minor resource guarding, and common dog-dog reactivity.
Due to a large volume of inquiries, we are NOT currently accepting new clients for behavior modification of more serious aggression issues, dogs with a bite history of people or other dogs, aggression toward people, or major separation anxiety as we are full to capacity at this time serving our past and current Good Dog Rising clients. For major aggression, fear, or separation issues, please consider an appointment with a board-certified veterinary behaviorist. 
| Private Training Package | Details | Fee |
| --- | --- | --- |
| 3-Pack Private Training | Three 1-hour sessions | $495 |
| 6-Pack Private Training | Six 1-hour sessions | $950 |
| Initial Consultation (optional) | One 20-min session | $25 |
* Private training fees may vary depending upon complexity of issues.
How to Schedule Private Training
1) Purchase a New Client Package on the "Purchase Private Packages" tab. After paying for your package, you will have credits to "spend" when you schedule your initial and follow-up sessions.
2) Schedule your first session by emailing info@gooddogrising.com.